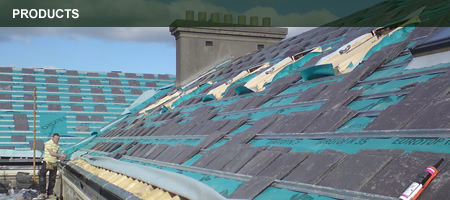 CAPCO
Capco is a leading distributor of roofing products. They supply a wide range and quality of products unmatched in Ireland. The best natural slates are sourced from leading quarries in Spain and Wales offering both distinctive beauty and durability.

TEGRAL
Tegral supply the housing market with a wide range of slates. They also have a comprehensive selection of cladding products.

BLUE BANGOR SLATE
Blue Bangor Slate Company supply Natural Slate from McAlpines slate quarries in Wales and United States of America.

Lafarge
Formerly known as redland, Lafarge provide a full range of roofing solutions, including tiles and slates, fittings and accessories.

KINGSPAN
Kingspan supply a large range of insulation products.

velux
VELUX supplies a complete range of products from roof windows to blinds, roller shutters and control options.


Roof restoration and conservation work. View our projects in Trinity College, Waterloo Road and Navan Road.


Fibreglass roofing is a very cost-effective alternative to copper and zinc. It has been used in building since the 1970s and has an excellent life span.