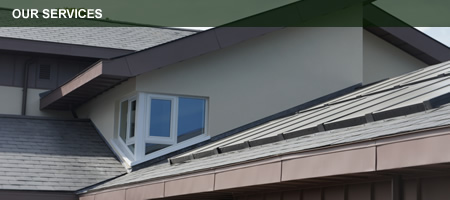 SLATING
Slating has always been one of our specialities. Our slating ranges from Natural Slates such as Welsh, Spanish, Canadian, South American, to man made fibre – cement slates. We also stock a large range of salvaged Blue Bangor slates which are the most popular slates used in all listed buildings. With our experience we can offer you unbiased advice on the vast range of slates to suit your requirement. Click here for more information about slates.




TILING
We install all types of tile roofs whether it's canopies, porches, new roofs or matching existing roofs. If it cannot be bought in Ireland we will import it to suit client specifications. We also carry out roof tile maintenance which includes re-pointing ridge tiles and replacing broken tiles.

FLAT ROOF
All our flat roofing membranes meet the highest quality and standards. We guarantee our flat roofing up to 25 years. All our flat roofing membranes come from Belgium and are quality certified. There are a large range of colours on the finishes to suit client specifications. All our membranes come finished with rock crystals to keep the sun reflected which means there in no need to paint it with those hideous silver paints. We also insulate our flat roofs with several types of insulation, again to suit client specification.

INSULATION
As insulations regulations are changing we are changing with the,. We are using all the latest types of insulation. We find insulation an important factor in roofing as prices of oil and gas are always on the increase. We fit and supply all types of insulation ourselves to a very high standard.

Types of Insulation
Sheeps Wool
Trri-so super 9-10 Thermo reflective insulation
Rockwool
Fibre Glass
Kingspan 40mm – 200mm Insulation
Thermal Bubble Rap

Chimneys, Cappings, Pointing and Rebuilding
Chimney capping and pointing is very important especially in areas that are exposed to high winds and rain. The cement deteriorates and falls out. We remove old cement, re-cap chimneys and re-point using a strong cement mix, we also install anti downdrafters.

COPPER, ZINC & LEAD WORK
All our copper and leadwork is carried out to the highest standard by our coppersmith who has over 25 years experience in the trade. Our copper and leadwork includes new slopping valleys, internal valleys and parapet valleys. Dormer windows and step flashings. We also install copper ridge tiles which are excellent at keeping the moss off of your roof.

METAL ROOFS
We install all types of insulated metal roofs with mainly Kinspan and Tegral systems and insulation thickness to suit customer requirements.

FACIA & SOFFIT
Our facia and soffits range from fancy timber scrolled facia boards to modern day PVC.

ROOF CARPENTRY
We carry out all types of roof timber works from first-fix framing to repairing damaged valley boards. Cutting and slicing back old rafters that have been damaged by wood rot. All of our timber repair work is fully treated with wood preserver, all timber used is of the highest quality.


Roof restoration and conservation work. View our projects in Trinity College, Waterloo Road and Navan Road.


Fibreglass roofing is a very cost-effective alternative to copper and zinc. It has been used in building since the 1970s and has an excellent life span.